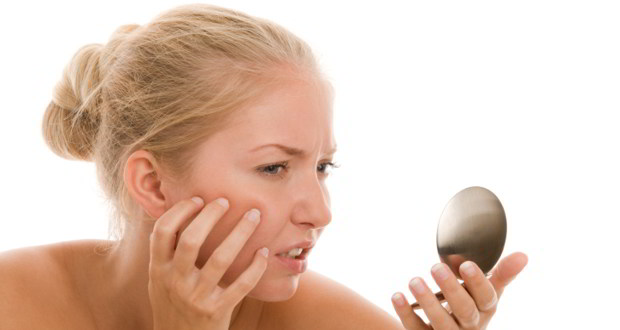 Acne is the common cause of spots. Most people with acne are aged between 12 and 25 but some older and younger people are affected. Boys are more commonly affected than girls. Acne usually affects the face but may also affect the back, neck and chest. The severity can range from mild to severe. About 8 in 10 teenagers develop some degree of acne. Often it is mild. However, it is estimated that about 3 in 10 teenagers have acne bad enough to need treatment to prevent scarring. Untreated acne usually lasts about 4-5 years before settling. However, it can last for many years in some cases.
Acne Causes
Acne occurs when sebaceous (oil) glands attached to the hair follicles are stimulated at the time of puberty or due to other hormonal changes. Sebum (oil) is a natural substance that lubricates and protects the skin. Associated with increased oil production is a change in the manner in which the skin cells mature, predisposing them to plug the follicular pore. The plug can appear as a whitehead if it is covered by a thin layer of skin, or if exposed to the air, the darker exposed portion of the plug is called a blackhead.
Natural Remedies for Acne
Tea Tree Oil
With its natural inflammation-fighting properties, a 5 percent solution of tea tree oil is less harsh than a 5 percent benzoyl peroxide solution and can be just as effective against acne, though it may clear up a little less quickly. Mix a few drops of tea tree oil with between 20 and 40 drops of witch hazel, then use a cotton swab to apply. Try this remedy up to twice a day; more could dry your skin and make the acne worse.
Green Tea
Green tea has antimicrobial and antioxidant compounds that can help fight acne. To get its effects, use a cooled cup of green tea as a face wash or lay the bag over the affected area.
Honey
Honey's antibiotic properties can help improve acne. Apply a teaspoon of honey to affected areas, or make a mask by mixing 1/2 cup of honey with 1 cup of plain oatmeal and leaving it on for 30 minutes.
Mint
Mint can help remove pore-clogging oil. To help clear acne before it begins, mix 2 tablespoons of finely chopped fresh mint with two tablespoons each of plain yogurt and oatmeal (use a blender to pulverize the oatmeal to powder). Leave the concoction on your face for 10 minutes, then rinse off with water.
Echinacea
Echinacea is traditionally used to speed wound healing and prevent colds and flu, but its antibacterial and anti-inflammatory properties can help with acne as well. Use echinacea tea as a daily face wash by soaking a cloth with it, or put a few drops of tincture on a cotton ball and dab it on blemishes.
Aspirin
The salicylic acid in aspirin is a go-to for acne treatments, and the aspirin can dry up pimples and reduce inflammation. To take advantage of its benefits, form a paste by mashing aspirin in a little water, or dissolve four pills in 2 tablespoons of water.
Chamomile
Chamomile helps decrease inflammation from acne. In a blender or coffee grinder, combine the contents of a chamomile tea bag with enough water to form a paste, and apply that to acne. Alternately, steep two chamomile tea bags with 1 cup boiled water for 15 minutes. Let the tea cool, then use a cotton ball to dab it on your face after cleansing.
Witch Hazel
Witch hazel can act as an astringent, naturally drying and shrinking blemishes. To get its benefits, pour witch hazel onto a cotton ball and wipe your face each morning and night.
Aloe
Aloe, known for its burn-relieving properties, can promote healing, fight infection, and even reduce scarring. Scrape the gel from an aloe plant out with a spoon, and apply to acne. You can also buy aloe gel from health-food stores—just make sure it's pure aloe, with no added ingredients.
Lemons
Lemons act as an exfoliant, skin lightener, and disinfectant to reduce the appearance of scars and prevent new pimples from forming. On a clean face, dab acne with a cotton ball or cotton swab dipped in lemon juice, then rinse with cool water.
Apple Cider Vinegar
Apple cider vinegar contains malic and lactic acids that can exfoliate, reduce red marks, and treat acne. For a DIY toner, mix equal parts apple cider vinegar and water and apply to skin with a cotton ball, making sure to shake well before each use.
Acidic Foods
Acidic foods like citrus fruit juice or vinegar can flush pores. Dab a little onto a cotton ball to help battle acne; gently swipe the cotton on the affected areas.
Omega-3 Fatty Acids
Omega-3 fatty acids have anti-inflammatory properties that can improve acne. Get the benefits from a taking a multi-nutrient capsule containing fish oil, or add more salmon, albacore tuna, flaxseeds, and walnuts to your diet.
Baking Soda
Baking soda or sodium bicarbonate works as a gentle exfoliant for your skin. Thus, it unplugs the pores and removes dead skin.
It also helps regulate the pH balance of the skin and has mild anti-inflammatory and antiseptic properties. All these characteristics make it an excellent home remedy for clearing acne.
Apply a paste of one or two teaspoons of baking soda and a little water. Rinse it off after a few minutes.
You can also mix together two tablespoons baking soda, one teaspoon cinnamon powder, the juice of half a lemon, and five tablespoons honey. Apply it on your face and wash after five minutes.
Use baking soda on your skin once or twice a week.
Oatmeal
Oatmeal is beneficial in reducing acne because it cleanses your skin pores and absorbs excess oil. Plus, it exfoliates your skin.
Mix one teaspoon of honey and the juice of half a lemon in a cup of cooked oatmeal.
Rub this mixture over your skin.
Leave it on for 30 minutes and then rinse with lukewarm water.
Do this once or twice a week.
Fuller's Earth
Fuller's earth also known as multani mitti is good for greasy and acne-prone skin as it absorbs excess oil (without over-drying your skin) and unclogs the pores.
It helps improve your complexion too. You can find it at Indian grocery stores.
Mix equal proportions of Fuller's earth (multani mitti), rose water, and sandalwood powder. You can add more rose water to get a better consistency of the paste.
Apply this mud pack to your face.
Wash after it dries up.
Repeat the process once a week.
Toothpaste
The toothpaste that you use regularly to clean your teeth can also help clear up an acne problem. This is in fact one of the easiest home remedies for acne.
Apply a small amount of white toothpaste on the affected area before going to bed. The toothpaste will reduce the swelling and dry out the acne. Within a day or two, you should see significant improvement.
Orange Peel
The acidic property and high vitamin C present in an orange makes it a perfect remedy for acne. You can use the juice from the orange as well as its peel, but the peel can be more effective.
Put orange peel in the sun and let it completely dry out.
Grind the dried peel into a powder and add water to make a paste.
Apply the paste to the affected area and leave it on for 10 to 15 minutes. Then wash your face with warm water.
Aloe Vera Gel
The soothing and anti-inflammatory properties in aloe vera can treat acne in a matter of a few days. Aloe vera gel is also helpful in healing the scars caused by acne.
You can buy aloe vera gel from the market or get pure aloe vera gel by cutting a leaf off an aloe vera plant and squeezing the gel from the middle. Apply the aloe vera gel to the affected area twice daily.
Fenugreek
The herb fenugreek can also be used in the treatment of acne due to its anti-inflammatory, antioxidant and antiseptic properties.
Mix fresh fenugreek leaves with water to make a smooth paste. Apply the herbal paste on the affected area and leave it on for about 10 to 15 minutes. Then wash your face with warm water. Repeat the process for three to four days to allow the acne to heal.
Alternatively, grind one teaspoon of fenugreek seeds into a fine powder and add a little warm water to it to make a paste. Apply this paste on the affected area. Leave it on for about 20 minutes or overnight and then rinse it off. Do this two or three times a week.
Indian Lilac
Indian lilac, also known as neem, can be used for the treatment of various skin problems. It contains antiseptic and antimicrobial properties that help kill the bacteria that cause acne. Also, it soothes the redness and inflammation of skin breakouts.
Make a paste of tender Indian lilac leaves by adding a little water. Add some turmeric powder to the paste and then apply it on the affected area. Leave it on for 20 minutes and then wash it off. Do this at least twice a week.
You can also apply neem oil a few times a day until you see improvement.
These simple and easy-to-follow natural treatments for acne can solve the problem to some extent. For best results, you must also live a healthy lifestyle. If you cannot successfully treat your acne with these home remedies, you should consult a doctor.
Ice
Just as ice controls swelling on a sprained ankle, it can reduce inflammation in a pimple, says Dr. Jaliman. "Wrap an ice cube in a wash cloth and hold it on the pimple for a minute," she says. "It will vasoconstrict the blood vessels and take down the redness and swelling."
Garlic
You can't go wrong with garlic (well, besides the smell). "It has mild antiseptic and antibacterial properties, which may help when applied topically, and garlic in the diet is extremely healthy, with both anti-cancer and anti-clotting properties," says Dr. Krant. Crushed garlic also contains allicin, an antibacterial compound, says Dr. Jaliman. She suggests making a paste of crushed garlic and water, applying it directly to the blemish, and then washing it off after 5 minutes.
Egg whites
"Egg whites are an age-old beauty secret," says Dr. Krant. "The protein and vitamins in egg whites help to tighten and draw oils out of the skin, which may help unclog pores and reduce inflammation." Dr. Jaliman recommends smearing egg whites over your problem areas and leaving on 10 minutes before rinsing off with water.
Banana Peel
"Banana peel applied with the inside layer against the skin has been a reported cure for plantar warts on the soles of the feet, so there's reason to think it may be helpful applied to pimples as well," says Dr. Krant. Gently rub the peel over the affected area for 5 to 10 minutes, and then wash your face.
Raw White Potato
Potatoes have been applied to bruises and wounds for a century; the tubers are anti-inflammatory and may also be antiseptic, says Dr. Krant. Plus, Dr. Jaliman adds, potatoes contain niacin, which may help lighten acne marks. She suggests applying shredded white potato to the skin like a mask and massaging for 2 minutes.
Eye Drops
Eye drops reduce redness in your eyes, and they can do the same thing for your skin. Soak a few cotton swabs in a redness-reducing drop like Clear Eyes  or Visine, and then store them in your freezer. Next time a zit pops up, grab the swab, apply it to the blemish, and watch the redness go away.
Tomatoes
Rub tomatoes on your acne. Naturally rich in antioxidants and vitamins A and C, tomatoes are another simple acne remedy available at any food store. Tomatoes also tighten the skin's pores and shrink pimples. Application is easy and takes very little time.
Slice a small tomato in half.
Rub the opened half over areas of the skin where acne is present. Discard the tomato afterward.
Massage the juice into your skin for a few seconds.
Rinse your face with warm water afterward.
Apply twice a day for best results, using the other half of the tomato for the second application.
Salt
Make a sea salt mixture. Sea salt can help dry out your pimples and absorb excess oil. Mixed with honey, it can be an effective home remedy for acne.
Mix 1 teaspoon of sea salt with 3 teaspoons of hot water.
Stir the mixture until the salt dissolves.
Add 1 teaspoon of honey and stir well.
Apply this mixture to your face when it has sufficiently cooled. If you only want it on your pimples, you can use a Q-tip to apply it as a spot treatment.
Leave the mixture on for 10 minutes. Avoid keeping it on any longer or your skin will get too dry.
Rinse off with cool water.
Apply moisturizer. Sea salt may leave your skin dry, so applying a moisturizer is important to keep your skin healthy.
Yogurt
Apply a yogurt mask to your face. Yogurt helps open up pores, exfoliate the skin, and absorb excess oil.
Take one tablespoon of plain yogurt and apply it evenly across your face.
Leave this on for 15 minutes, then rinse off with cool water.
You can repeat this treatment daily.