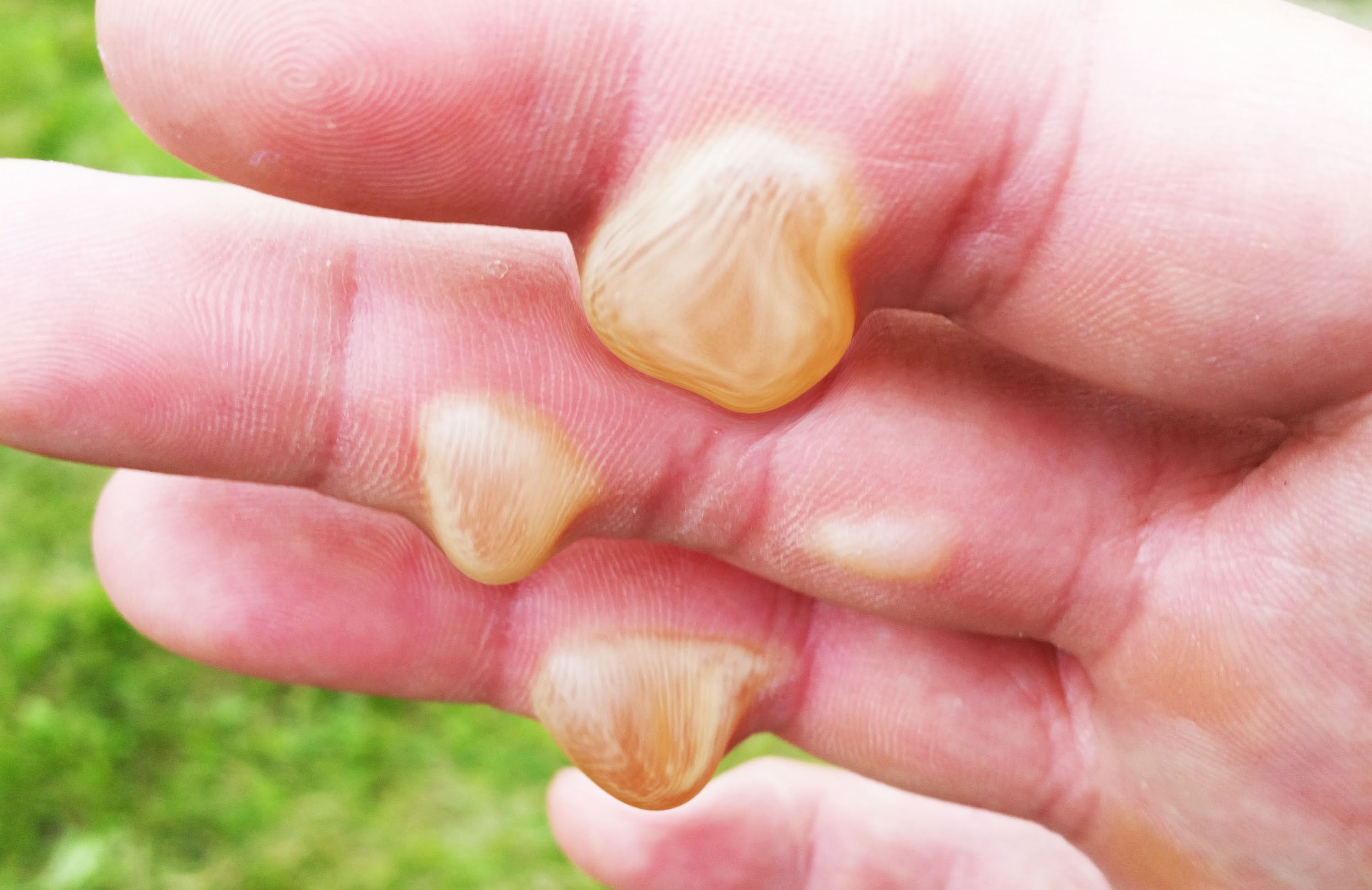 The skin has an important role to play in the fluid and temperature regulation of the body. If enough skin area is injured, the ability to maintain that control can be lost. The skin also acts as a protective barrier against the bacteria and viruses that inhabit the world outside the body.
The amount of damage that a burn can cause depends upon the type of burn, its location, its depth, and how much body surface area that it involves.
Types/Levels
1st-degree burn
A first-degree burn is the least serious type, involving only the outer layer of skin. It may cause:
You can usually treat a first-degree burn as a minor burn. If it involves much of the hands, feet, face, groin, buttocks or a major joint, seek emergency medical attention.
2nd-degree burn
A second-degree burn is more serious. It may cause:
Red, white or splotchy skin
Swelling
Pain
Blisters
If the second-degree burn is no larger than 3 inches (7.6 centimeters) in diameter, treat it as a minor burn. If the burned area is larger or covers the hands, feet, face, groin, buttocks or a major joint, treat it as a major burn and get medical help immediately.
3rd-degree burns
The most serious burns involve all layers of the skin and underlying fat. Muscle and even bone may be affected. Burned areas may be charred black or white. The person may experience:
Difficulty breathing
Carbon monoxide poisoning
Other toxic effects, if smoke inhalation also occurred
Remedies
Home treatment for minor burns
For home treatment of first-degree burns and sunburns:
Use cool cloths on burned areas.
Take frequent cool showers or baths.
Apply soothing lotions that contain aloe vera to burned areas to relieve pain and swelling. Applying 0.5% hydrocortisone cream to the burned area also may help. Note: Do not use the cream on children younger than age 2 unless your doctor tells you to. Do not use in the rectal or vaginal area of children younger than age 12 unless your doctor tells you to.
There isn't much you can do to stop skin from peeling after a sunburn-it is part of the healing process. Lotion may help relieve the itching.
Other home treatment measures, such as chamomile, may help relieve your sunburn symptoms.
Mint toothpaste
For when you accidentally touch something hot without a potholder, or get splattered by something that's boiling, keep a tube of white, minty toothpaste in the kitchen as a home remedy to relieve a minor burn. First, run the scalded area under cold water, then gently pat it dry with a paper towel and cover with a layer of the toothpaste.
Tea bags
Black tea contains tannic acid, which draws heat from burns to help make them less painful. (Those same soothing compounds make tea a great home remedy for toothaches and many other conditions.) Treat the burn by placing two or three cool, wet black tea bags on it, using gauze to hold the bags in place.
Honey
A famous sore throat remedy, honey is a natural antibiotic, which helps to prevent your burn from becoming infected. It has a natural pH balance that is inhospitable to bacteria, so once applied topically, it can also kill any existing bacteria or infection lingering on the skin. Honey will also cool the burn, relieve pain, and help the skin to heal.
Milk
The fat and protein content in milk soothes burns and promotes healing. Soak the burn in milk for 15 minutes for quick relief. Full-fat, whole-milk yogurt can also help cool and hydrate your parched skin.
Coconut oil
Coconut oil is an excellent source of skin-healing vitamin E and it also contains fatty acids that are anti-fungal and anti-bacterial, which help keep your burn from becoming infected. If a scald has left a nasty mark on your skin, one home remedy suggests adding lemon juice to the coconut oil before massaging it into the mark. The acidic properties of lemon juice will help lighten the scar while the coconut oil helps it heal.
Raw Potato
Raw potato can treat minor skin burns due to its anti-irritating and soothing properties. It will alleviate the pain and reduce the chance of having blisters.
Aloe Vera
Aloe vera has astringent and tissue-healing properties that can help in healing burns.
Vinegar
The astringent and antiseptic properties in vinegar can be very helpful in treating minor burns and preventing infection.
Prevention
The obvious best way to fight burns is to prevent them from happening. Certain jobs put you at a greater risk for burns, but the fact is that most burns happen at home. Infants and young children are the most vulnerable to burns. Preventive measures you can take at home include:
Keep children out of the kitchen while cooking.
Turn pot handles toward the back of the stove.
Place a fire extinguisher in or near the kitchen.
Test smoke detectors once a month.
Replace smoke detectors every 10 years.
Keep water heater temperature under 120 degrees Fahrenheit.
Measure bath water temperature before use.
Lock up matches and lighters.
Install electrical outlet covers.
Check and discard electrical cords with exposed wires.
Keep chemicals out of reach, and wear gloves during chemical use.
Wear sunscreen every day, and avoid peak sunlight.
Ensure all smoking products are stubbed out completely.
Clean out dryer lint traps regularly.
It's also important to have a fire escape plan and to practice it with your family once a month. In the event of a fire, make sure to crawl underneath smoke. This will minimize the risk of passing out and becoming trapped in a fire.