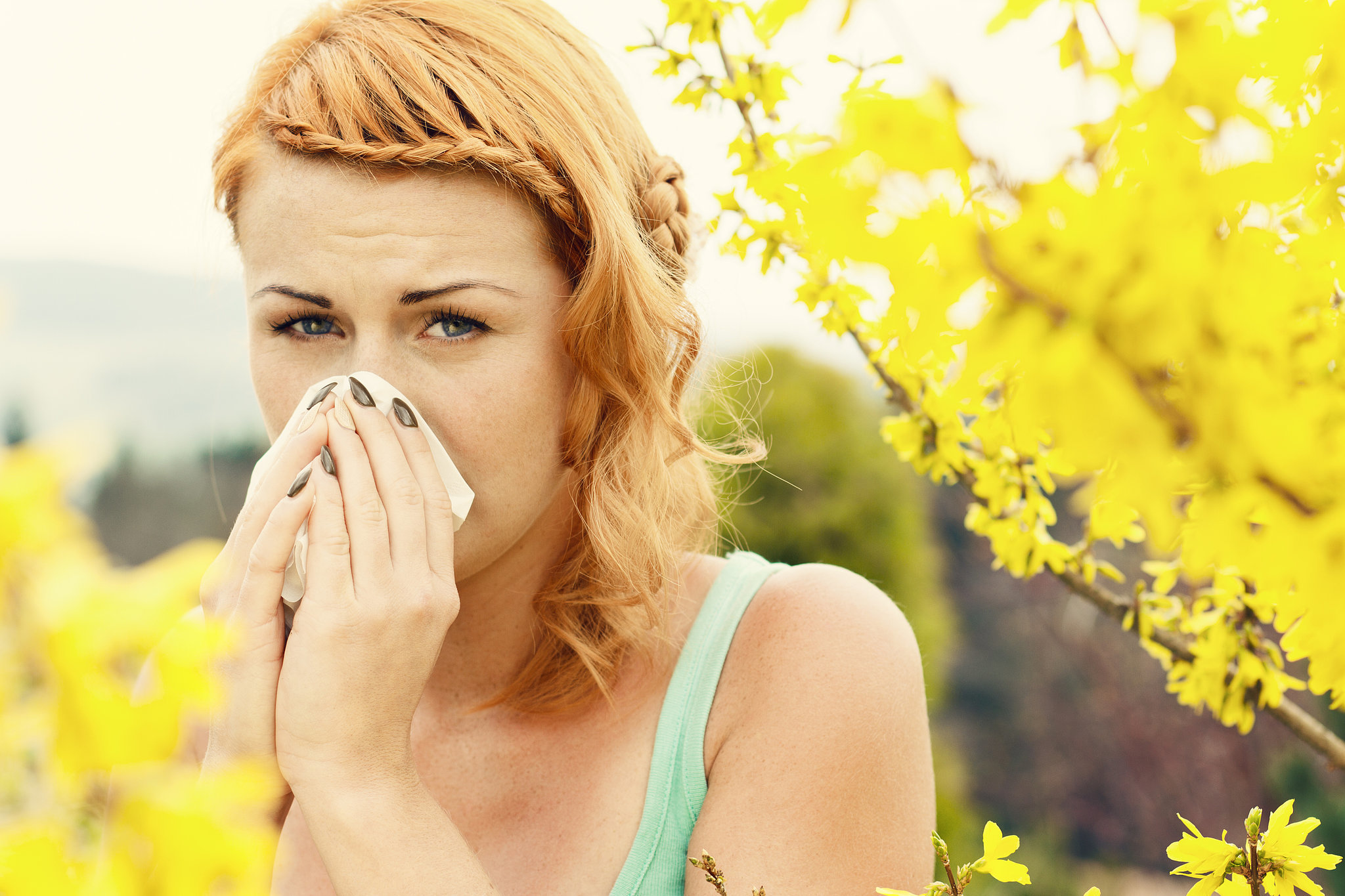 An allergy is a reaction by your immune system to something that does not bother most other people. People who have allergies often are sensitive to more than one thing.
Your immune system produces substances known as antibodies. When you have allergies, your immune system makes antibodies that identify a particular allergen as harmful, even though it isn't. When you come into contact with the allergen, your immune system's reaction can inflame your skin, sinuses, airways or digestive system.
The severity of allergies varies from person to person and can range from minor irritation to anaphylaxis — a potentially life-threatening emergency. While most allergies can't be cured, treatments can help relieve your allergy symptoms.
Allergies can cause a variety of symptoms such as a runny nose, sneezing, itching, rashes, swelling, or asthma. Allergies can range from minor to severe. Anaphylaxis is a severe reaction that can be life-threatening. Doctors use skin and blood tests to diagnose allergies. Treatments include medicines, allergy shots, and avoiding the substances that cause the reactions.
Some allergies go away as a child gets older, although many are lifelong. Adults can develop allergies to things they weren't previously allergic to.
Having an allergy can be a nuisance and affect your everyday activities, but most allergic reactions are mild and can be largely kept under control. Severe reactions can occasionally occur, but these are uncommon.
Facts
Approximately 10%-30% of individuals in the industrialized world are affected by allergic conditions, and this number is increasing.
Allergic rhinitis (nasal allergies) affects roughly 20% of Americans. Between prescription costs, physician visits, and missed days of work/school, the economic burden of allergic disease exceeds $3 billion annually.
Food allergies affect roughly 3%-6% of children in the United States, and roughly 1%-2% of adults in the U.S.
The prevalence of allergic conditions has increased significantly over the last two decades and continues to rise.
Causes
An allergy starts when your immune system mistakes a normally harmless substance for a dangerous invader. The immune system then produces antibodies that remain on the alert for that particular allergen. When you're exposed to the allergen again, these antibodies can release a number of immune system chemicals, such as histamine, that cause allergy symptoms.
Common allergy triggers include:
Airborne allergens, such as pollen, animal dander, dust mites and mold
Certain foods, particularly peanuts, tree nuts, wheat, soy, fish, shellfish, eggs and milk
Insect stings, such as bee stings or wasp stings
Medications, particularly penicillin or penicillin-based antibiotics
Latex or other substances you touch, which can cause allergic skin reactions
Symptoms of an Allergic Reaction
Allergic reactions usually happen quickly within a few minutes of exposure to an allergen.
They can cause:
sneezing
a runny or blocked nose
red, itchy, watery eyes
wheezing and coughing
a red, itchy rash
worsening of asthma or eczema symptoms
Most allergic reactions are mild, but occasionally a severe reaction called anaphylaxis or anaphylactic shock can occur. This is a medical emergency and needs urgent treatment.
Natural Remedies for Allergies
Neti pots
They may look exotic, but Neti pots are fast becoming a mainstream remedy for allergies and stuffed-up sinuses. The treatment, which involves rinsing your nasal cavity with a saline solution, flushes out allergens (like pollen) and loosens mucus.
Saline spray
Prepackaged saline nasal sprays function much like Neti pots, but some allergy sufferers may find them easier to use. Sprays deliver saline solution a bit more gently and evenly, whereas pots can sometimes be a little "sloppy," says Robert Graham, MD, an internist and integrative medicine specialist at Lenox Hill Hospital, in New York City.
Honey
Eating honey produced by bees in your region can help relieve allergies. The bees transfer pollen from flower blossoms to honey, so if you eat a little honey every day you'll gradually become inoculated against the irritating effects of pollen.
HEPA filters
High-efficiency particulate air (HEPA) filters ease symptoms by trapping allergens and other airborne irritants, such as pet dander and dust. Portable air cleaners equipped with HEPA filters can purify the air in bedrooms and other confined spaces, but whole-house systems that incorporate HEPA filters into your home's heating, ventilation, and air conditioning (HVAC) system are generally more effective.
Herbs and supplements
Several herbs and supplements—including spirulina, eyebright, and goldenseal—have been studied for allergy relief. The plant extract butterbur, which is thought to reduce airway inflammation, has produced what are perhaps the strongest results. In a pair of clinical trials led by a Swiss research team, butterbur tablets eased symptoms just as much as the over-the-counter antihistamines fexofenadine and cetirizine, respectively.
A study of people with allergic asthma (asthma caused by allergies) found those who took daily fish-oil supplements for a month had lower levels of leukotrienes, chemicals that contribute to the allergic reaction.
Butterbur
Pharmaceuticals pack more punch, but if you want to go the natural route, butterbur has the best track record among herbs used for pollen allergies (it's also a known headache remedy), David Rakel, MD, founder and director of the University of Wisconsin Integrative Medicine Program, told WebMD. Some studies suggest it can be as effective for nasal symptoms as an antihistamine, with no accompanying sleepiness. (Keep in mind that the safety of long-term use hasn't been studied.)
Acupuncture
Acupuncture may help relieve hay fever, according to new research published in the Annals of Internal Medicine. In the study, allergy sufferers who were randomly assigned to a dozen acupuncture sessions had more symptom relief and used less antihistamine medication than those who got a "sham treatment" or did not get the treatment. Experts don't know for sure why acupuncture helps, but suspect that it "curbs inflammatory immune-system substances involved in allergic reactions," according to HealthDay.
Showering
Anyone who has even been stuffed-up knows the impressive ability of a steaming hot shower to soothe sinuses and clear nasal passages, if only temporarily. But showers offer an added benefit for springtime allergy sufferers. A quick rinse after spending time outdoors can help remove allergens from your skin and hair—and prevent them from spreading to clothes, furniture, pillowcases, and other surfaces where they're likely to dog you.
Steam
Don't feel like getting soaked and toweling off every time your sinuses get clogged? Other methods of inhaling steam—store-bought vaporizers, for instance—can flush out mucus and moisten dry nasal passages nearly as well as a shower.
Eucalyptus oil
The strong, piney aroma of eucalyptus oil can supercharge steam inhalation, helping to open your sinuses and nasal passages further. Some research suggests the essential oil, extracted from the leaves of the eucalyptus tree, has anti-inflammatory and antibacterial properties, but if nothing else the vapor provides a bracing, menthol-like sensation that can make breathing seem easier.
Spicy Foods
Many people swear by the sinus-clearing effects of spicy foods like chili peppers, wasabi, Dijon mustard, fresh garlic, and horseradish. Sure enough, an active ingredient in garlic (allyl thiosulfinate) and a similar ingredient in wasabi (isothiocyanates) do appear to have a temporary decongestant effect.
Cook With Turmeric
Turmeric, a spice common in curry and Indian cuisine, contains curcumin. It may act as a decongestant, help reduce allergy symptoms, and ward off colds. "It seems to be as effective as some drugs for certain conditions," said Bharat Aggarwal, PhD, professor of experimental therapeutics at MD Anderson Cancer Center in Houston.
Apple Cider Vinegar
Apple cider vinegar is an age old remedy that is often recommended for a variety of health conditions. I've personally used it for allergy relief (and heartburn relief) with great success. The theory is that its ability to reduce mucous production and cleanse the lymphatic system makes it useful for allergies. It is also said to help digestion, weight loss and more so it is worth a try!
Quercetin
Quercetin is a natural bioflavonoid that is said to help stabilize mast cells to keep them from releasing histamine. It is also a potent antioxidant that is said to help reduce inflammation. It is best used as a long term remedy and many people start taking it about 4-6 weeks before allergy season to help prevent allergy symptoms.
As with any herb, you should check with your doctor before using, especially if you have a liver problem, are pregnant, or are on hormonal contraceptives.
Nettle Leaf
Nettle leaf is another natural antihistamine that can be very effective as it naturally blocks the body's ability to produce histamine. It grows in many places and can be made in to a tincture or tea, but for allergy relief, capsules made from dried nettle leaves are the easiest and most effective option.
Nettle leaf can also be used in combination with other herbs to make a soothing herbal tea for allergy relief. It is often mixed with peppermint leaf and sometimes red raspberry leaf to make a refreshing allergy relief tea.
Probiotics
Allergies are the result of an imbalance in the immune system that causes the body to react too strongly to a stimuli. New research links the presence of beneficial bacteria in the gut with reduced incidence of allergies.
Evidence is even emerging that a mother's gut bacteria during pregnancy and nursing can impact a child's likelihood of getting allergies throughout life.
While we can't do much about our mothers' diets while they were pregnant, balancing gut bacteria now and consuming enough beneficial bacteria can have a positive effect on allergies now.
Peppermint Tea
Allergy sufferers throughout the centuries have turned to hot tea to provide relief for clogged-up noses and irritated mucous membranes, and one of the best for symptom relief is peppermint tea. Peppermint's benefits extend well beyond its delicious smell; the essential oil acts as a decongestant, and substances in peppermint contain anti-inflammatory and mild antibacterial constituents.