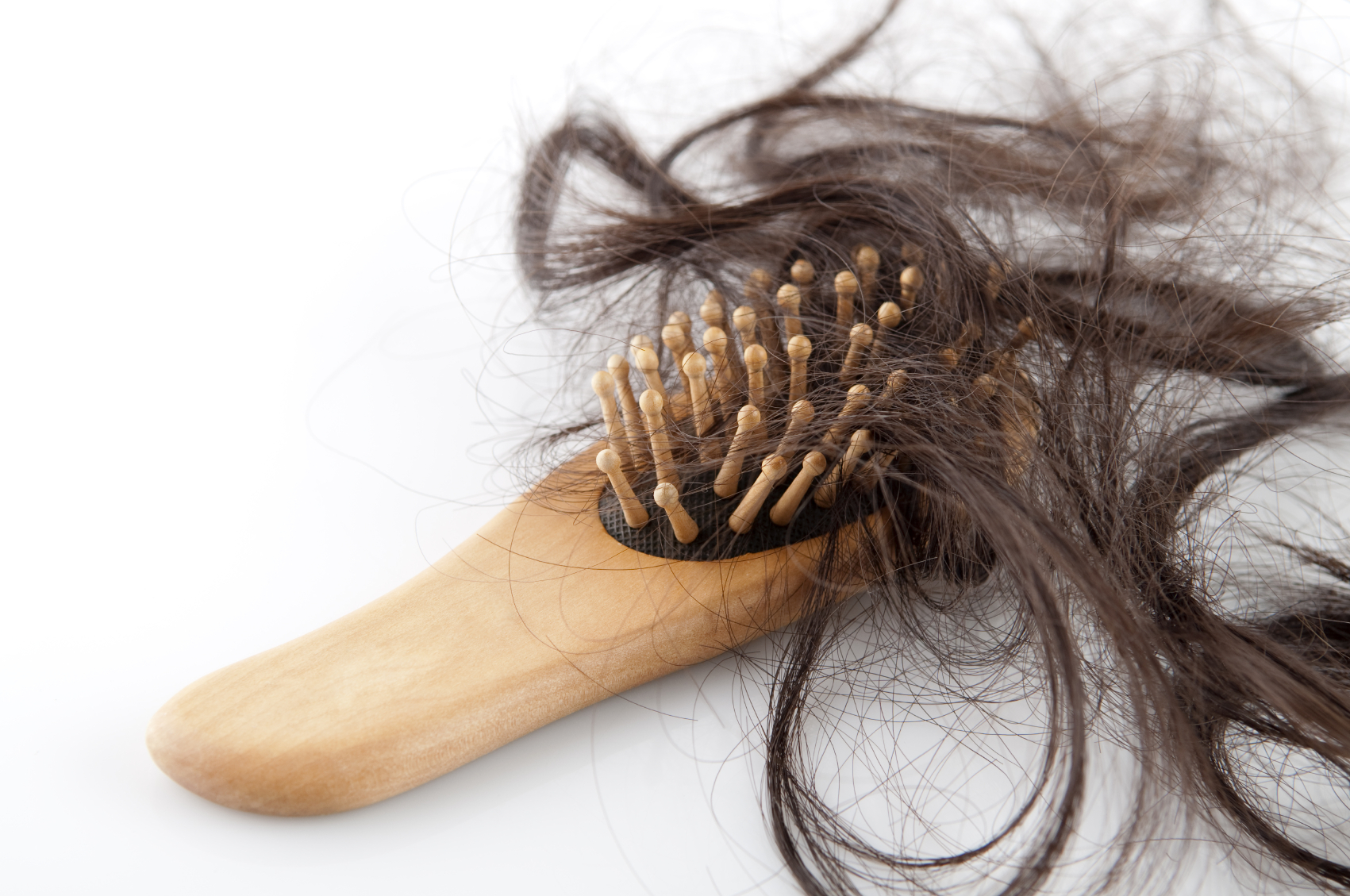 Both emotional and physical stress (such as a serious illness or recovery from surgery) have been associated with hair loss. It is possible that stress induces hormonal changes that are responsible for the hair loss, since hair loss is a known consequence of other hormonal changes due to pregnancy, thyroid disturbances, or even from taking oral contraceptives.
Causes
Everyone loses hair. It happens during your morning shower, while you're blowing it dry, or when you give it a quick brush—and that's normal. "On average, we lose fifty to a hundred hairs a day," says Francesca Fusco, MD, a New York City dermatologist who specializes in hair loss. "That's just hair going through its cycles, and there will be a new one to replace it."
But hair loss may be a sign of a more serious medical condition that needs an evaluation by a dermatologist and possible treatment. Here are 9 causes of hair loss and how to deal with them.
Telogen effluvium
Telogen effluvium is a phenomenon that occurs after pregnancy, major surgery, drastic weight loss, or extreme stress, in which you shed large amounts of hair every day, usually when shampooing, styling, or brushing. It can also be a side effect of certain medications, such as antidepressants, beta-blockers, and nonsteroidal anti-inflammatory drugs. During telogen effluvium, hair shifts faster than normal from its growing phase into the "resting" phase before moving quickly into the shedding, or telogen, phase.
Hereditary hair loss
Hair loss that is genetic is known as androgenetic alopecia and, according to the American Academy of Dermatology, is the most common cause of hair loss. The gene can be inherited from either your mother's or father's side of the family, though you're more likely to have it if both of your parents had hair loss.
Hypothyroidism
Millions of people, most of them women, suffer from thyroid disease. When your body produces too little thyroid hormone, the hormone responsible for metabolism, heart rate, and mood, you are said to have hypothyroidism, or an underactive thyroid. If your body makes too much of the hormone, you're said to have hyperthyroidism, or an overactive thyroid. Thyroid hormone is responsible for everything from your basal metabolic rate—the rate at which your body uses oxygen and energy to function—to the growth of your hair, skin, and nails. But when you don't have the right amount, you may notice changes in bodily functions.
Lupus
Lupus is a chronic autoimmune disease in which the body's own immune system attacks healthy tissues. The condition affects about 1.5 million people and tends to strike women during their childbearing years.
Excessive styling
Too much shampooing, styling, and dyeing can harm your tresses. Heat and chemicals weaken the hair, causing it to break and fall out. Often, it's a combination of treatments—keratin, coloring, and blow-drying, for instance—that does the damage.
Treatment
Just as there are many causes, there are many treatments for hair loss. Dermatologists recommend treating hair loss early. Early means before you lose a lot of hair. Hair loss is harder to treat when a person has a lot of hair loss.
One or more of the following treatments may be part of your treatment plan.
Treatment available without a prescription
Minoxidil
This medicine is applied to the scalp. It can stop hairs from getting thinner and stimulate hair growth on the top of the scalp. The U.S. Food and Drug Administration (FDA) has approved minoxidil to treat hair loss. It is the only hair re-growth product approved for men and women. A dermatologist may combine minoxidil with another treatment.
Laser devices
Brushes, combs, and other hand-held devices that emit laser light might stimulate hair growth. These devices might make hair look more youthful in some people. Because the FDA classifies these products as medical devices, the products do not undergo the rigorous testing that medicines undergo. The long-term effectiveness and safety for these devices are not known.
Remedies
Looking for a treatment that works without the side-effects of chemicals or medications? You should try these home remedies. According to hair experts, losing 50-100 strands of hair every day is fairly normal. It is only a cause of concern when you lose more than that. But you can stop hair fall in its tracks with these simple home remedies.
Henna
It is mostly used as a natural hair colour or conditioner but henna has properties that can strengthen your hair from the root. If you combine it with other ingredients, it makes for a better hair pack.
Hot oil massage
Heat some oil (preferably coconut oil or almond oil) and slowly massage your scalp using your fingertips. It increases flow of the blood to the hair follicles, enhances the strength of the roots of your hair and condition your scalp.
Onion juice
Onion is a rich source of sulphur which helps in hair growth by increasing collagen production. Using its juice on the scalp can help in controlling hair fall.
Green tea
Green tea revitalizes hair follicles and stimulates hair production. It also enhances your metabolism which ultimately leads to increased rate of hair growth. Just condition your hair with green tea solution and notice the change!
Natural hair mask
Hair masks are a mix of various ingredients good for hair but they need not always be chemical based! Make hair masks at home using natural ingredients such as banana, coconut oil, olive oil and honey and control hair loss to a great level!