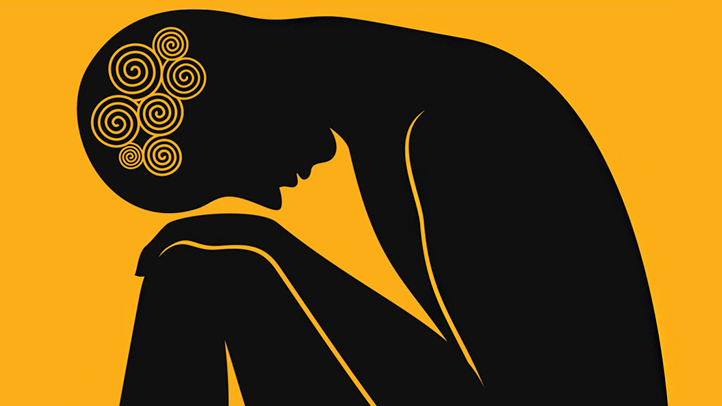 Anxiety is a feeling of unease, such as worry or fear, which can be mild or severe.
Everyone has feelings of anxiety at some point in their life. You may feel worried and anxious about sitting an exam, or having a medical test or job interview. During times like these, feeling anxious can be perfectly normal. But anxiety disorders involve more than temporary worry or fear.
Anxiety disorder is a serious mental illness. For people who have one, worry and fear are constant and overwhelming, and can be disabling. But with treatment, many people can manage those feelings and get back to a fulfilling life.
Types and Symptoms
Panic Disorder
People with this condition have feelings of terror that strike suddenly and repeatedly with no warning. Other symptoms of a panic attack include sweating, chest pain, palpitations (unusually strong or irregular heartbeats), and a feeling of choking. It can feel like you're having a heart attack or "going crazy."
Symptoms
Sudden and repeated attacks of intense fear
Feelings of being out of control during a panic attack
Intense worries about when the next attack will happen
Fear or avoidance of places where panic attacks have occurred in the past
Social Anxiety Disorder
Also called social phobia, this involves overwhelming worry and self-consciousness about everyday social situations. The worry often centers on a fear of being judged by others, or behaving in a way that might cause embarrassment or lead to ridicule.
Symptoms
Feeling highly anxious about being with other people and having a hard time talking to them
Feeling very self-conscious in front of other people and worried about feeling humiliated, embarrassed, or rejected, or fearful of offending others
Being very afraid that other people will judge them
Worrying for days or weeks before an event where other people will be
Staying away from places where there are other people
Having a hard time making friends and keeping friends
Blushing, sweating, or trembling around other people
Feeling nauseous or sick to your stomach when other people are around
Generalized Anxiety Disorder
This is excessive, unrealistic worry and tension, even if there's little or nothing to provoke the anxiety.
Symptoms
Restlessness or feeling wound-up or on edge
Being easily fatigued
Difficulty concentrating or having their minds go blank
Irritability
Muscle tension
Difficulty controlling the worry
Sleep problems (difficulty falling or staying asleep or restless, unsatisfying sleep)
Specific Phobias
These are intense fears of a specific object or situation, such as heights or flying. The level of fear is usually inappropriate to the situation and may cause you to avoid common, everyday situations.
Natural Remedies
Chamomile Tea
Chamomile contains two chemicals that promote relaxation, apigenin and luteolin. A study at the University of Pennsylvania Medical Center found that patients with generalized anxiety disorder who took chamomile supplements for eight weeks had a significant decrease in anxiety symptoms compared to patients who were given a placebo.
Diet
Examine your diet, and watch for caffeine, alcohol, and added sugars, which have all been shown to increase anxiety.
Eat Something, Quick
"Almost universally, people get more anxious and irritable when they are hungry," says Dr. Ramsey, coauthor of The Happiness Diet. "When you get an anxiety attack, it may mean your blood sugar is dropping. The best thing to do is to have a quick sustaining snack, like a handful of walnuts, or a piece of dark chocolate, along with a glass of water or a nice cup of hot tea."
In the long term, diet is key to reducing anxiety, says Dr. Ramsey. His advice: Eat a whole-foods, plant-based diet with carefully selected meat and seafood, plenty of leafy greens (such as kale) to get folate, and a wide variety of phytonutrients to help reduce anxiety.
Epsom Salts
A soothing hot bath is always calming, and raising your body heat may help regulate mood and anxiety. For added benefits, stir in some Epsom salts. The magnesium sulfate in the salts has been shown to calm anxiety and lower blood pressure. You can also try adding lavender or vanilla essential oils to your bathwater, to reap the benefits of these calming scents.
Exercises
Exercise will not only make you feel better about yourself, but will flood your body with feel-good endorphins. Some researchers even believe that increasing your body heat, a natural result of exercise, may alter neural circuits controlling cognitive function and mood, including those that affect the neurotransmitter serotonin. Researchers believe this response can boost your mood, increase relaxation, and alleviate anxiety.
Lavender
One study found that people who received a massage with lavender oil were more upbeat and had less anxiety than people who had a lavender-free massage. Another found lavender massage can even lower systolic pressure the top blood pressure number that's associated with stress. Try putting a few drops of lavender essential oil on your pillow or in your bath, or add a few drops to a cup of boiling water and inhale for a quick calm-me-down.
Lemon Balm
Named after the Greek word for "honey bee," lemon balm (Melissa officinalis), has been used at least since the Middle Ages to reduce stress and anxiety, and help with sleep. In one study of healthy volunteers, those who took standardized lemon balm extracts (600 mg) were more calm and alert than those who took a placebo.
L-lysine
L-lysine is an amino acid and one of the building blocks of your brain's chemical messengers called neurotransmitters. Studies have shown that people taking L-lysine supplements had reduced symptoms of anxiety and reduced levels of stress hormones. L-lysine is commonly found in meat, fish, and beans, and is also sold as an oral supplement.
Omega-3s
There is some evidence that omega-3 fatty acids may ease anxiety symptoms and lift your mood by lowering levels of stress chemicals such as adrenaline and cortisol in the body. Caned fatty fish, such as tuna and salmon, walnuts, and flax seeds are all great sources of omega-3 fatty acids. An Israeli study found that students given fish oil supplements had less test anxiety as measured by their eating and sleeping habits, cortisol levels, and mental states.
Sunlight
A short 15 minute break will not only take your mind of stress, but also let you reap the benefits of outdoor activity. And the greener the better, one Japanese study found that people who walked through a forest for 20 minutes had lower stress hormone levels after their walk than those who took a comparable walk in an urban area.
Stop Catastrophizing
When you're attacked by anxiety, it's easy to get into a mindset known as "catastrophic thinking" or "catastrophizing." Your mind goes to the bad terrible really horrible just unbearable things and what if they really do happen? "You think, 'This could really ruin my life,'" says Dr. Ramsey.
Instead, take a few deep breaths, walk around the block, and consider the real probability that this problem will really spin out into catastrophe. How likely is it that you'll lose your job, never talk to your sister again, go bankrupt?
Chances are a catastrophic outcome is a lot less likely than you think when you're consumed with anxiety. "Very few events really change the trajectory of your life," says Dr. Ramsey.
Passionflower
In spite of the name, this herb won't help you in love. It's a sedative; the German government has approved it for nervous restlessness. Some studies find that it can reduce symptoms of anxiety as effectively as prescription drugs. It's often used for insomnia.
Valerian
Some herbal supplements reduce anxiety without making you sleepy (such as L-theanine), while others are sedatives. Valerian (Valeriana officinalis) is squarely in the second category. It is a sleep aid, for insomnia. It contains sedative compounds; the German government has approved it as a treatment for sleep problems.
Stress-Management Techniques
Stress management techniques and meditation can help people with anxiety disorders calm themselves and may enhance the effects of therapy. While there is evidence that aerobic exercise has a calming effect, the quality of the studies is not strong enough to support its use as treatment. Since caffeine, certain illicit drugs, and even some over-the-counter cold medications can aggravate the symptoms of anxiety disorders, avoiding them should be considered. Check with your physician or pharmacist before taking any additional medications.
The family can be important in the recovery of a person with an anxiety disorder. Ideally, the family should be supportive but not help perpetuate their loved one's symptoms.