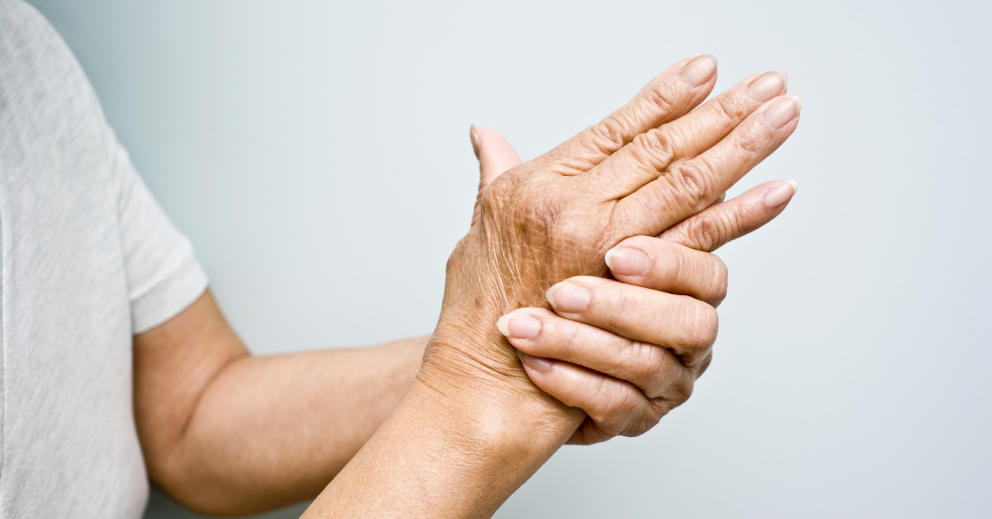 Arthritis is a joint disorder featuring inflammation. A joint is an area of the body where two different bones meet. A joint functions to move the body parts connected by its bones. Arthritis literally means inflammation of one or more joints.
Symptoms
The symptoms of arthritis you experience will vary depending on the type you have.
This is why it's important to have an accurate diagnosis if you have:
joint pain, tenderness and stiffness
inflammation in and around the joints
restricted movement of the joints
warm, red skin over the affected joint
weakness and muscle wasting
Causes
There is no single cause of all types of arthritis; the cause or causes in any given case vary according to the type or form of arthritis. Potential causes for arthritis may include:
Injury – leading to degenerative arthritis
Abnormal metabolism – leading to gout and pseudogout
Inheritance – such as in osteoarthritis
Infections – such as in the arthritis of Lyme disease
Immune system dysfunction – such as in RA and SLE.
Most types of arthritis are caused by a combination of many factors working together, although some arthritis conditions have no obvious cause and appear to be unpredictable in their emergence.
Some people may be more susceptible to certain arthritic conditions due to their genetic makeup. Additional factors, such as previous injury, infection, smoking and physically demanding occupations, can interact with a person's genes to further increase the risk of arthritis.
What to Avoid
Avoid activities that involve high impact and repetitive motion, such as:
Running
Jumping
Tennis
High-impact aerobics
Repeating the same movement, such as a tennis serve, again and again
Many different types of medications are available for arthritis pain relief. Most are relatively safe, but no medication is completely free of side effects. Talk with your doctor to formulate a medication plan for your specific pain symptoms.
Natural Remedies for Arthritis
Acupuncture
Acupuncture is an ancient Chinese therapy that involves placing tiny needles along meridians in the body to release trapped energy, or chi.
Avocado-soybean Unsaponifiables (ASU)
ASU blocks pro-inflammatory chemicals, prevents deterioration of synovial cells, which line joints, and may help regenerate normal connective tissue. A large three-year study published in 2013 showed that ASU significantly reduced progression of hip OA compared with placebo. A 2008 meta-analysis found that ASU improved symptoms of hip and knee OA, and reduced or eliminated NSAID use.
Boswellia Serrate (Indian frankincense)
The active components (Boswellic acids) have anti-inflammatory and analgesic (pain-relieving) properties. It also may help prevent cartilage loss and inhibit the autoimmune process. In a 2008 study, the extract, also known as Loxin 5, significantly improved OA pain and function within seven days. An Indian study also revealed it slowed cartilage damage after three months of use.
Capsaicin (Capsicum frutescens)
Capsaicin temporarily reduces substance P, a pain transmitter. Its pain-relieving properties have been shown in many studies, including a 2010 study published in Phytotherapy Research, which revealed a 50 percent reduction in joint pain after three weeks of use. It is available as a topical cream, gel or patch.
Cat's Claw (Uncaria tomentosa)
Cat's claw is an anti-inflammatory that inhibits tumor necrosis factor (TNF), a target of powerful RA drugs. It also contains compounds that may benefit the immune system. A small 2002 trial showed it reduced joint pain and swelling by more than 50 percent compared with placebo. Look for a brand that is free of tetra-cyclic oxindole alkaloids.
Electricity
Electrical energy can be used to help ease pain and swelling in arthritic joints in a couple of different ways. Physical therapists often employ transcutaneous electrostimulation, or TENS, which involves placing electrodes around the affected joint and delivering electromagnetic pulses through the skin.
Fish Oil (Omega-3 fatty acids EPA and DHA)
Omega-3s block inflammatory cytokines and prostaglandins, and are converted by the body into powerful anti-inflammatory chemicals called resolvins. EPA and DHA have been extensively studied for RA and dozens of other inflammatory conditions. A 2010 meta-analysis found that fish oil significantly decreased joint tenderness and stiffness in RA patients and reduced or eliminated NSAID use.
Glucosamine
There is some evidence that suggests that glucosamine alleviates arthritis pain, but the type of glucosamine matters.
Gamma Linolenic Acid (GLA)
GLA is an omega-6 fatty acid that the body converts into anti-inflammatory chemicals. In one trial, 56 patients with active RA showed significant improvement in joint pain, stiffness and grip strength after six months and progressive improvement in control of disease activity at one year. A smaller study found that a combination of GLA and fish oil significantly reduced the need for conventional pain relievers.
Ginger (Zingiber officinale)
Ginger has been shown to have anti-inflammatory properties similar to ibuprofen and COX-2 inhibitors. In a 2012 study, a specialized ginger extract reduced inflammatory reactions in RA as effectively as steroids did. Earlier studies showed that taking a certain extract four times daily reduced osteoarthritis pain in the knee after three months of treatment, and another taken twice daily worked about as well as ibuprofen taken three times daily for hip and knee OA pain.
Massage
According to the Arthritis Foundation, regular massaging of arthritic joints can help reduce pain and stiffness, and improve your range of motion. Work with a physical therapist to learn self-massage, or schedule appointments with a massage therapist regularly.
Meditation
Meditation is the practice of developing a deep concentration or focus. Tanya Edwards, MD, director of the Center for Integrative Medicine, Wellness Institute at the Cleveland Clinic, defines meditation as an array of mind-body and relaxation techniques – meditation, breath work, progressive relaxation, guided imagery – that help to lessen pain.
SAM-e (S-adenosylmethionine)
SAM-e acts as an analgesic (pain reliever) and has anti-inflammatory properties. It may stimulate cartilage growth and also affects neurotransmitters, such as serotonin, which reduce pain perception. Two studies have shown that it relieves OA symptoms as effectively as non-steroidal anti-inflammatory drugs (NSAIDs) with fewer side effects and more prolonged benefit.
Tumeric/Curcumin (Curcuma longa)
Curcumin is the chemical in turmeric that can reduce joint pain and swelling by blocking inflammatory cytokines and enzymes. A 2010 clinical trial using a turmeric supplement showed long-term improvement in pain and function in patients with knee OA. A small 2012 study using a curcumin product, BCM-95, showed more reduced joint pain and swelling in patients with active RA when compared to diclofenac sodium.